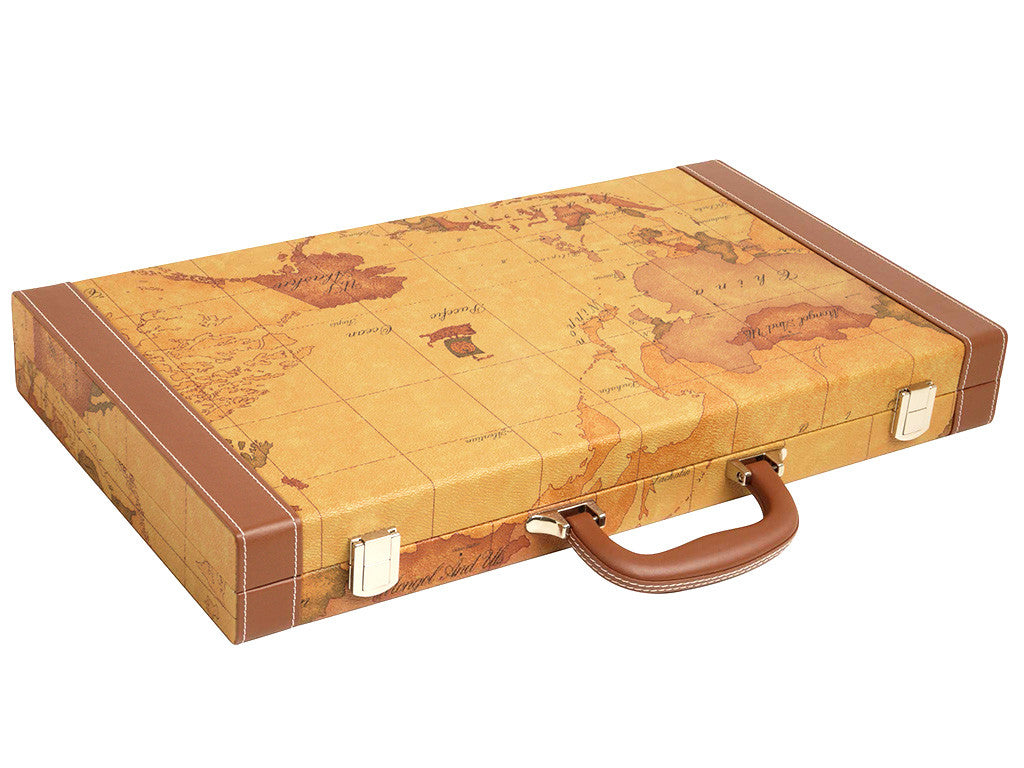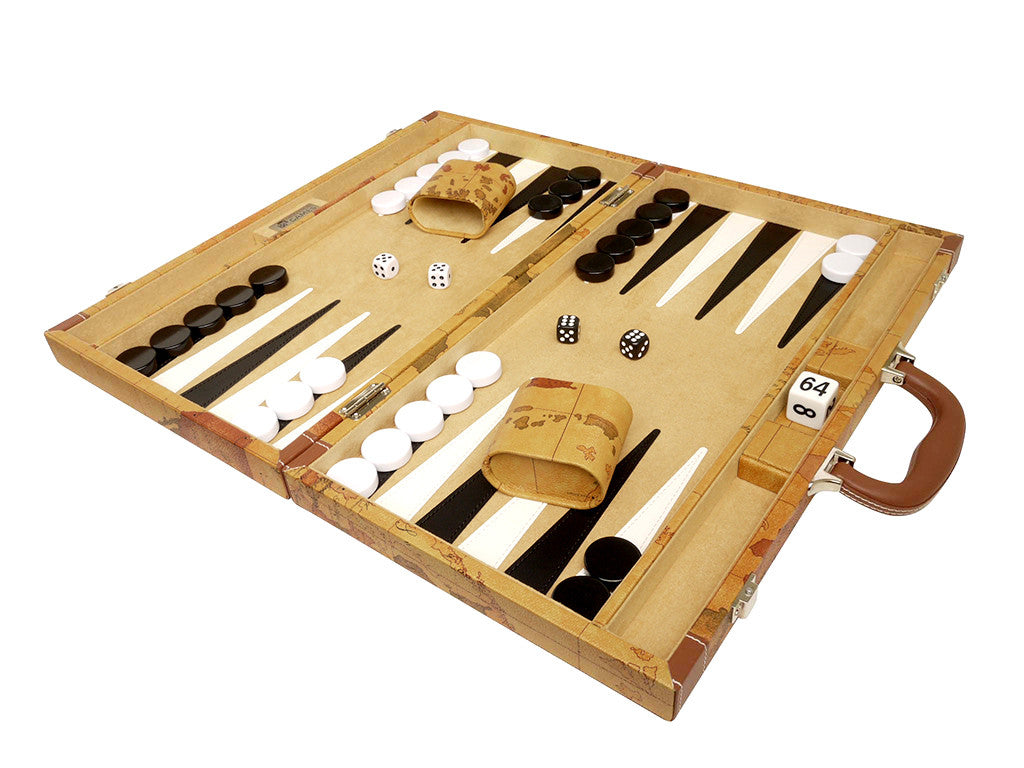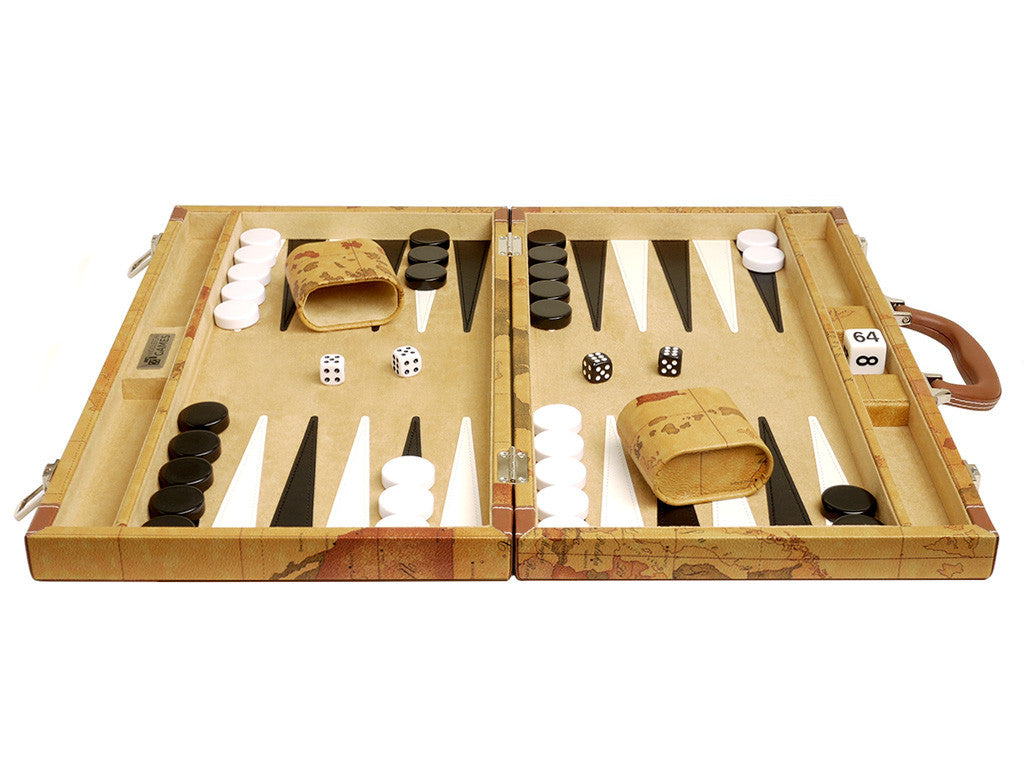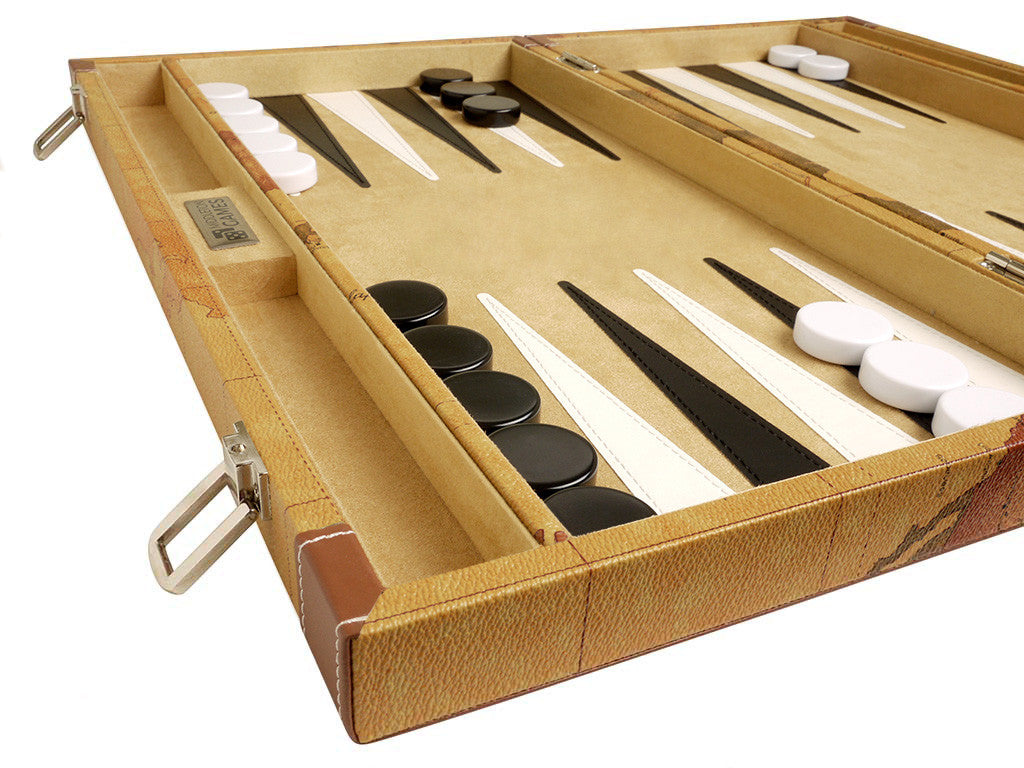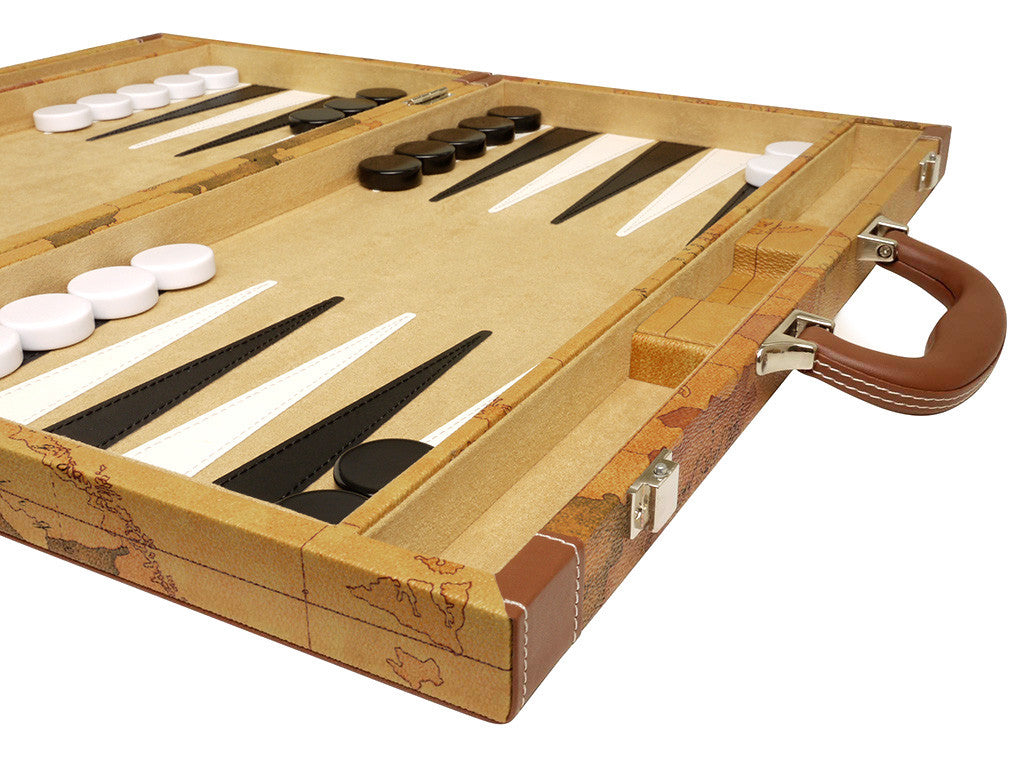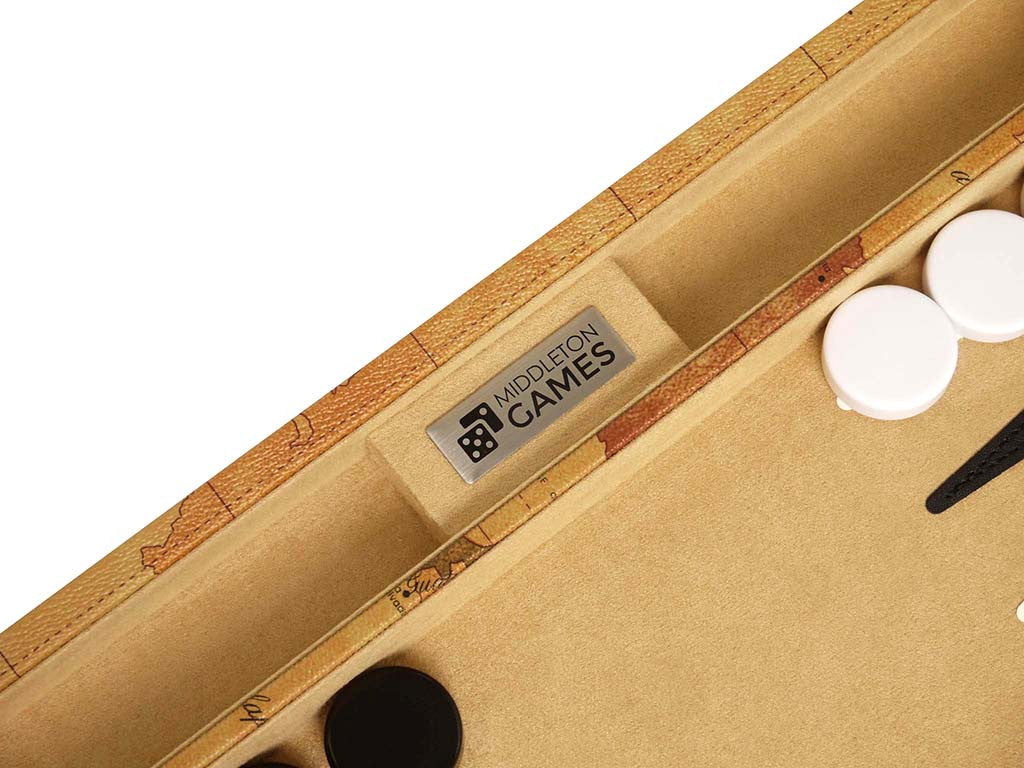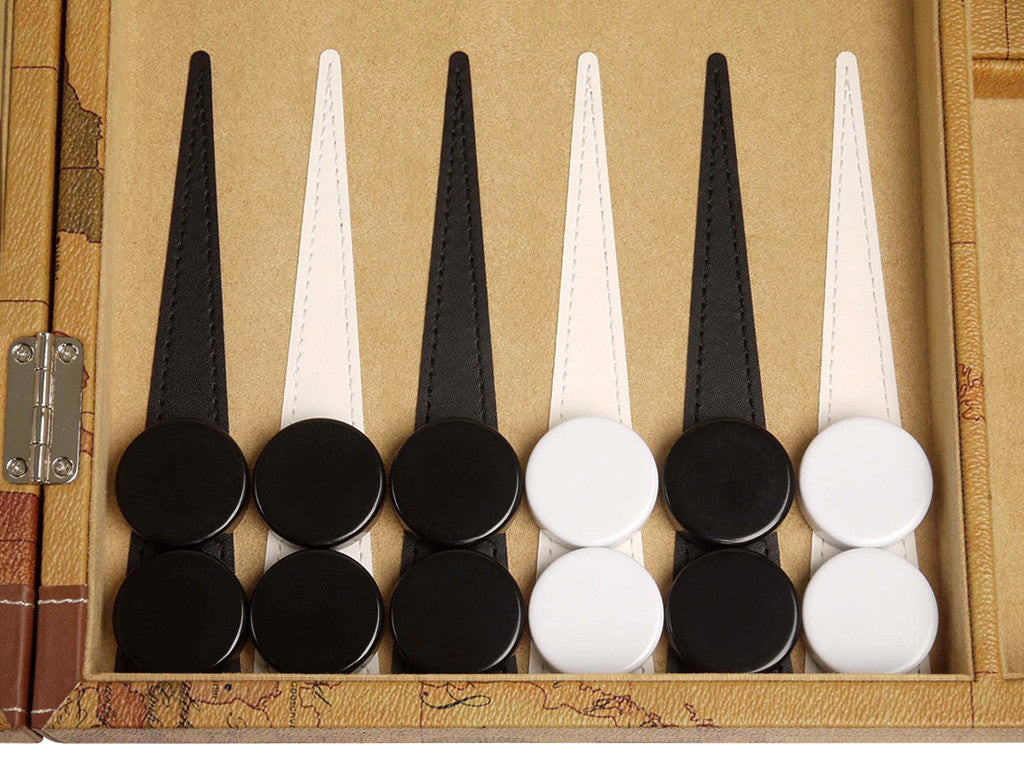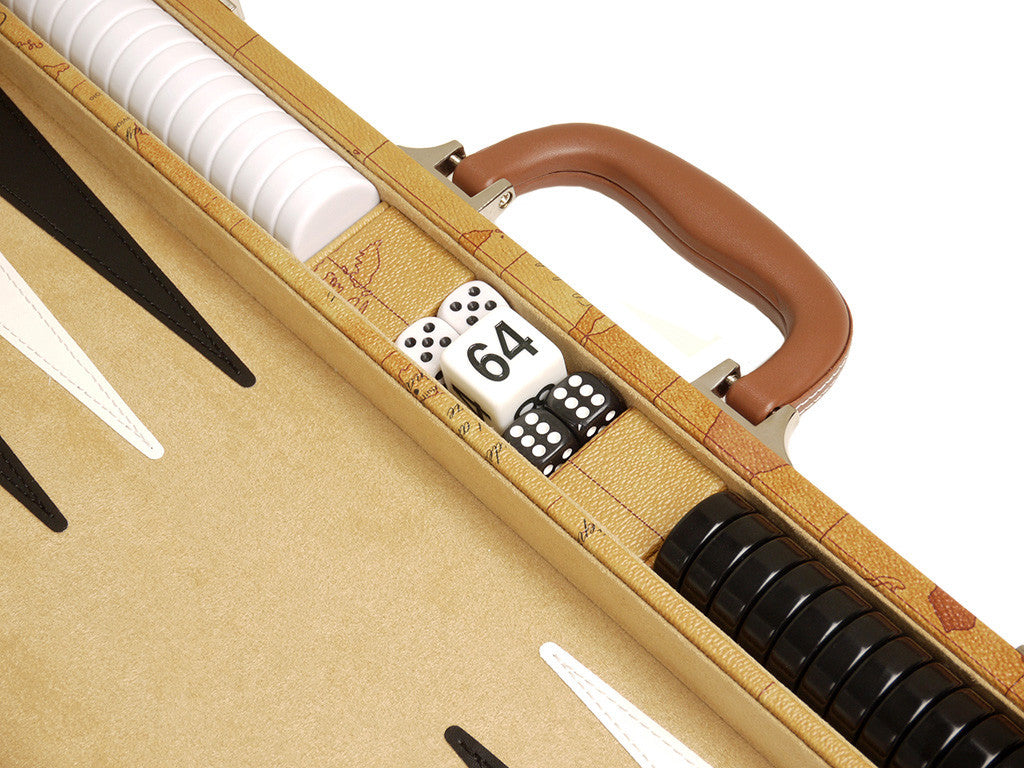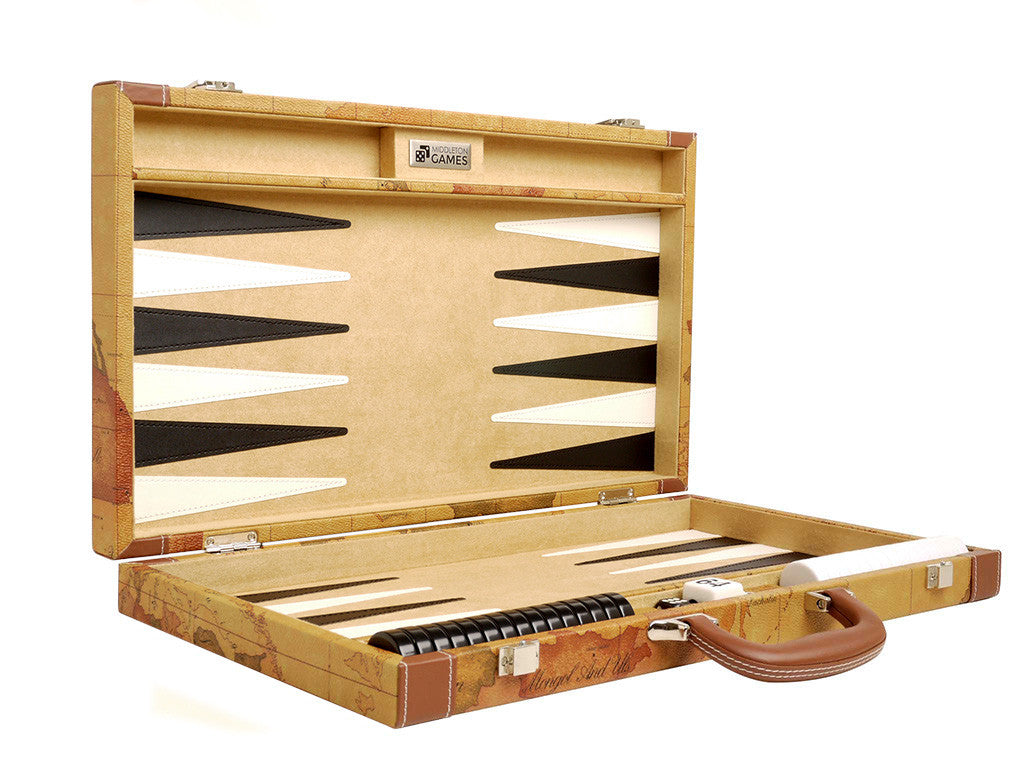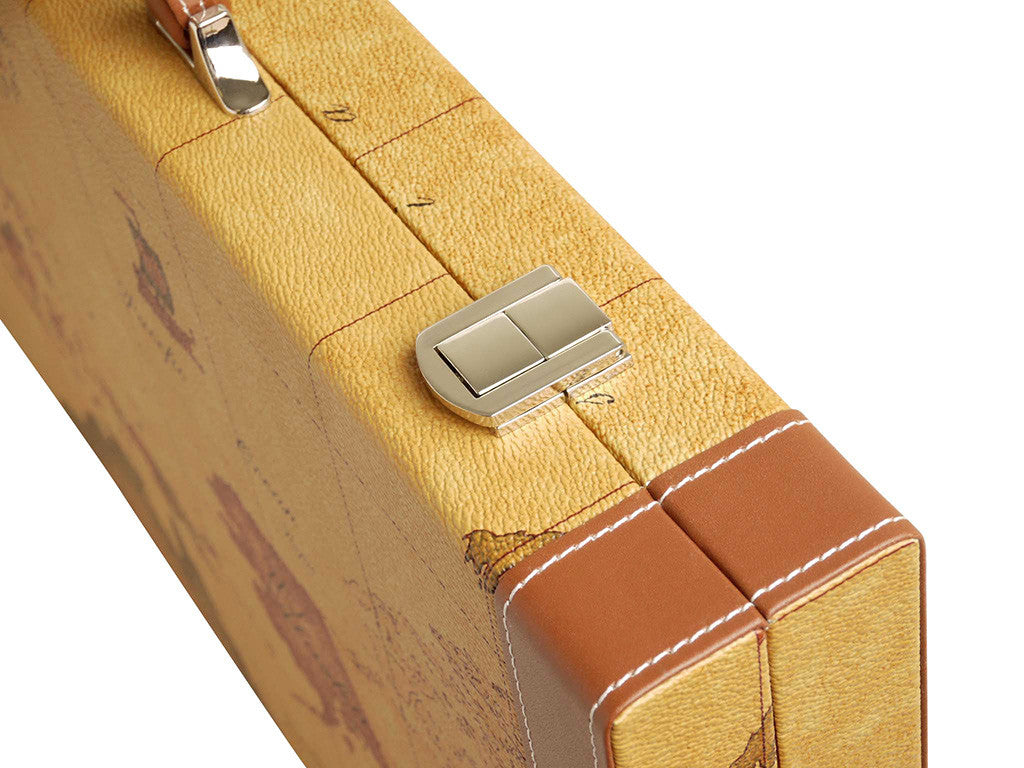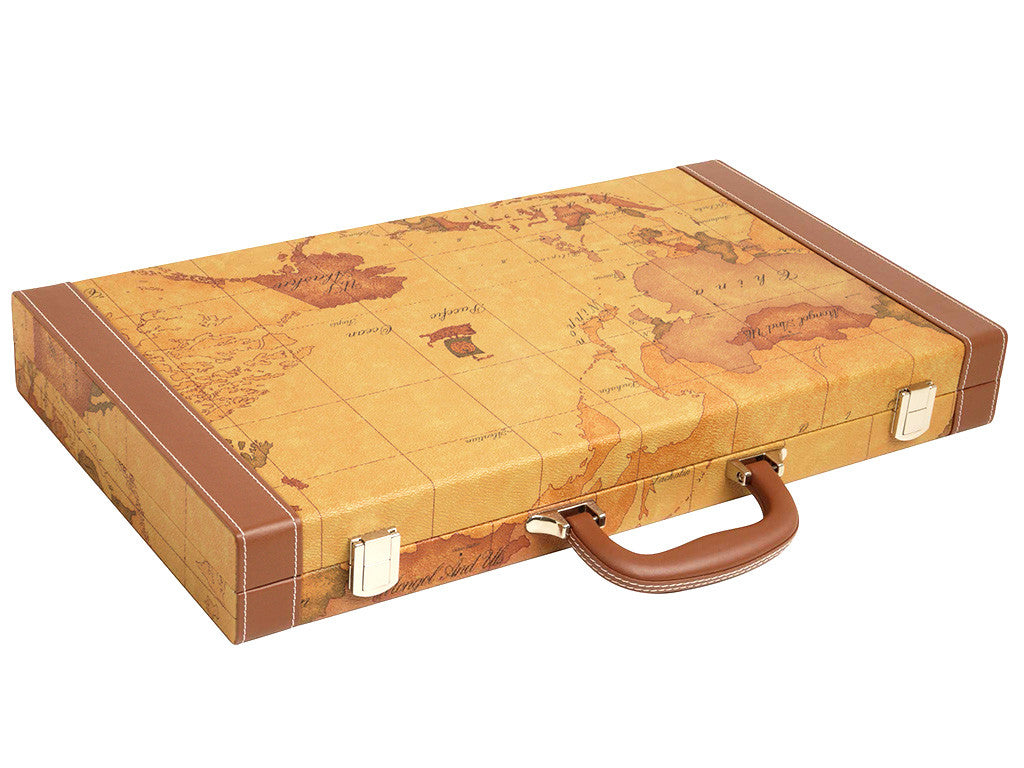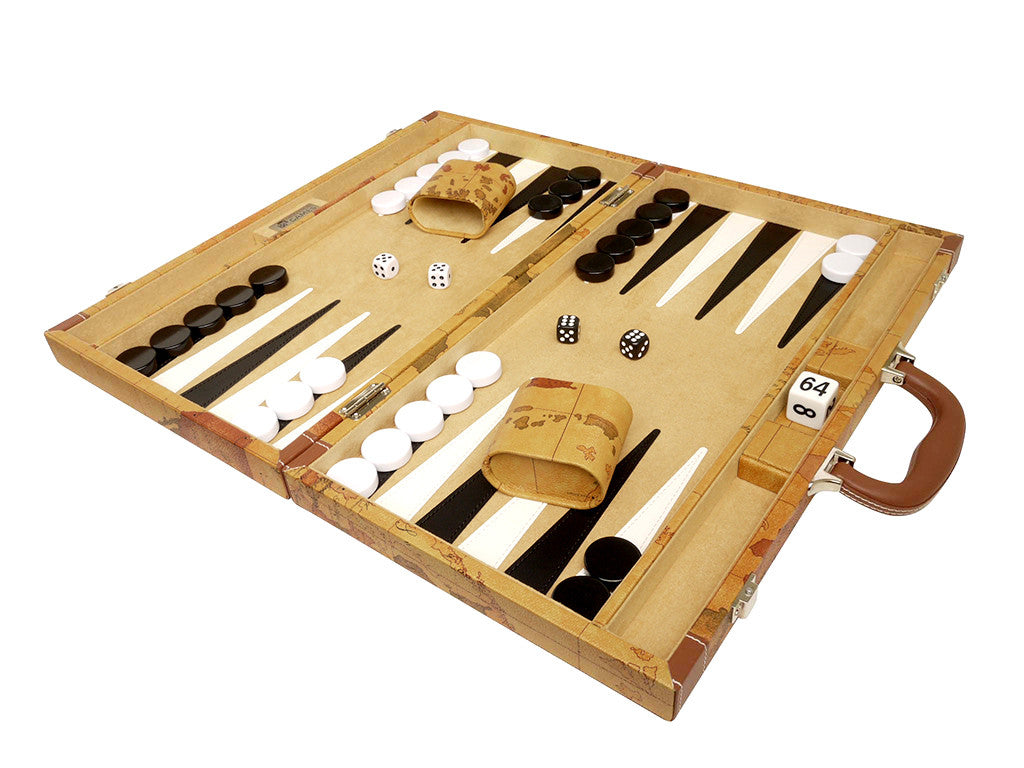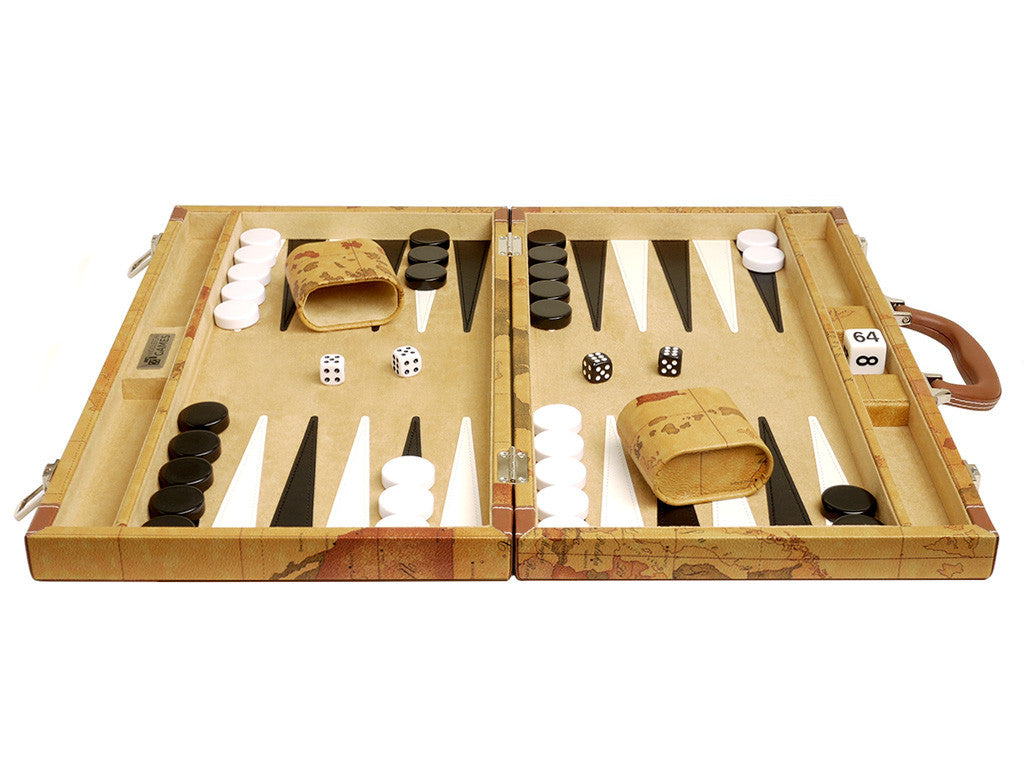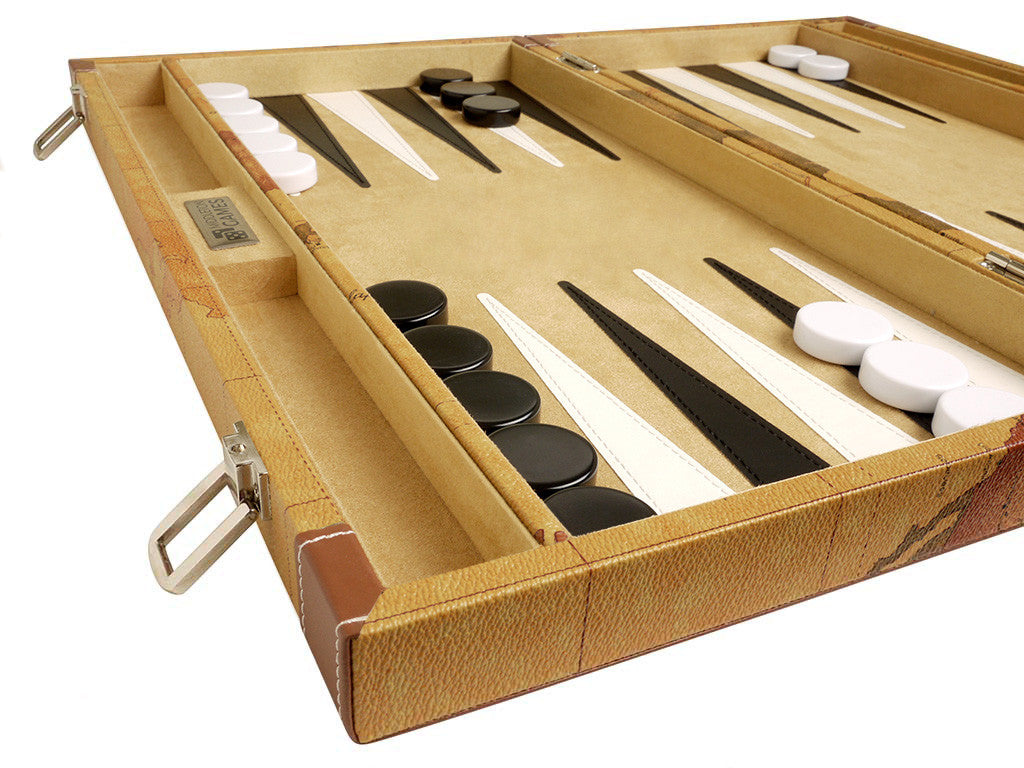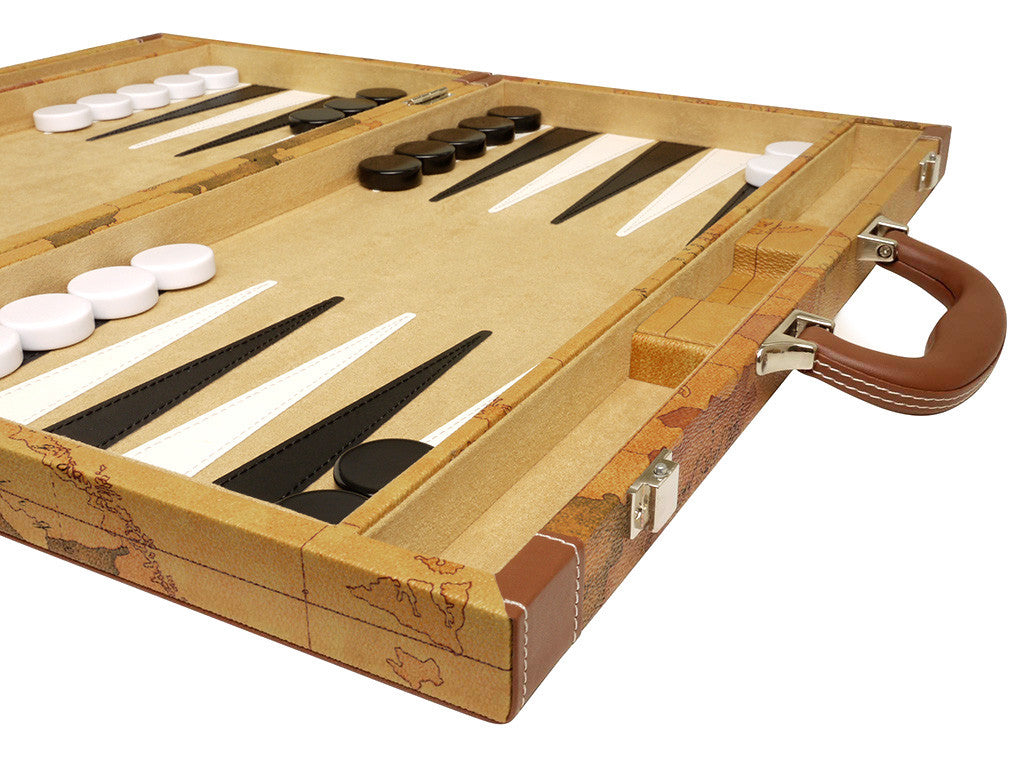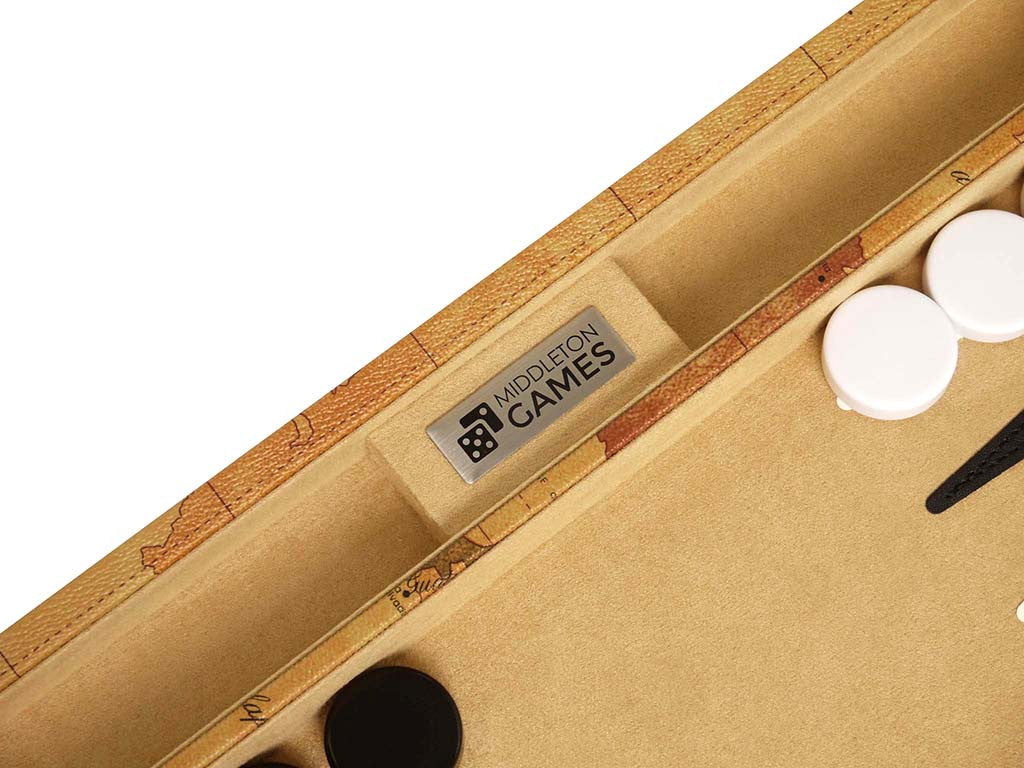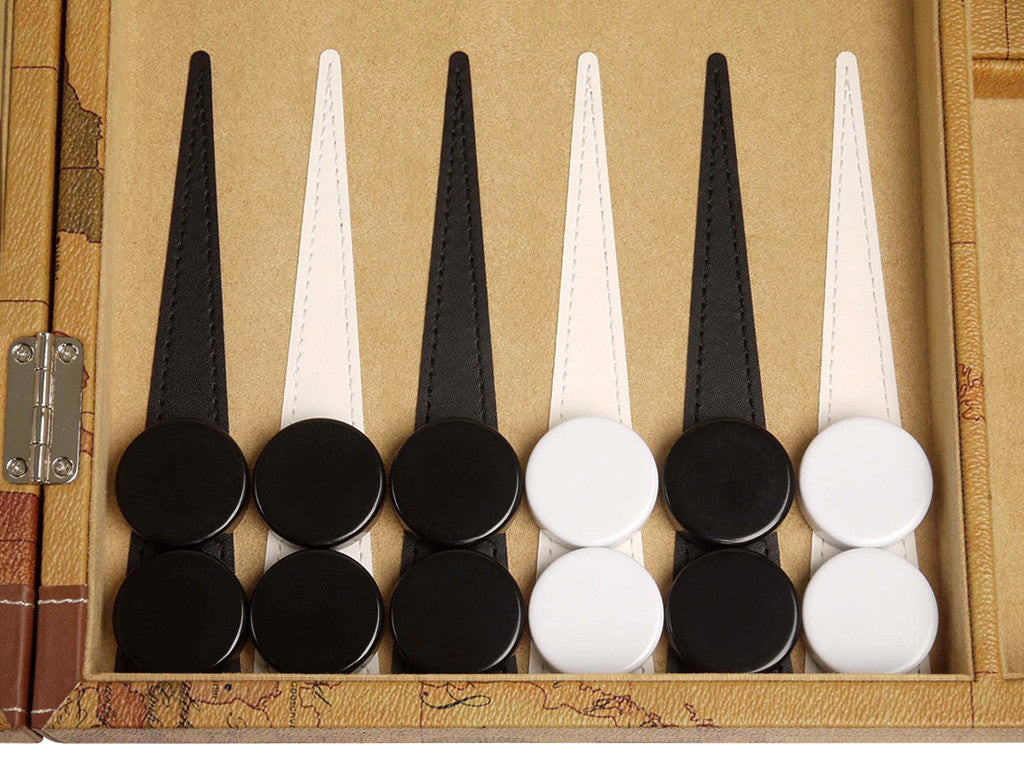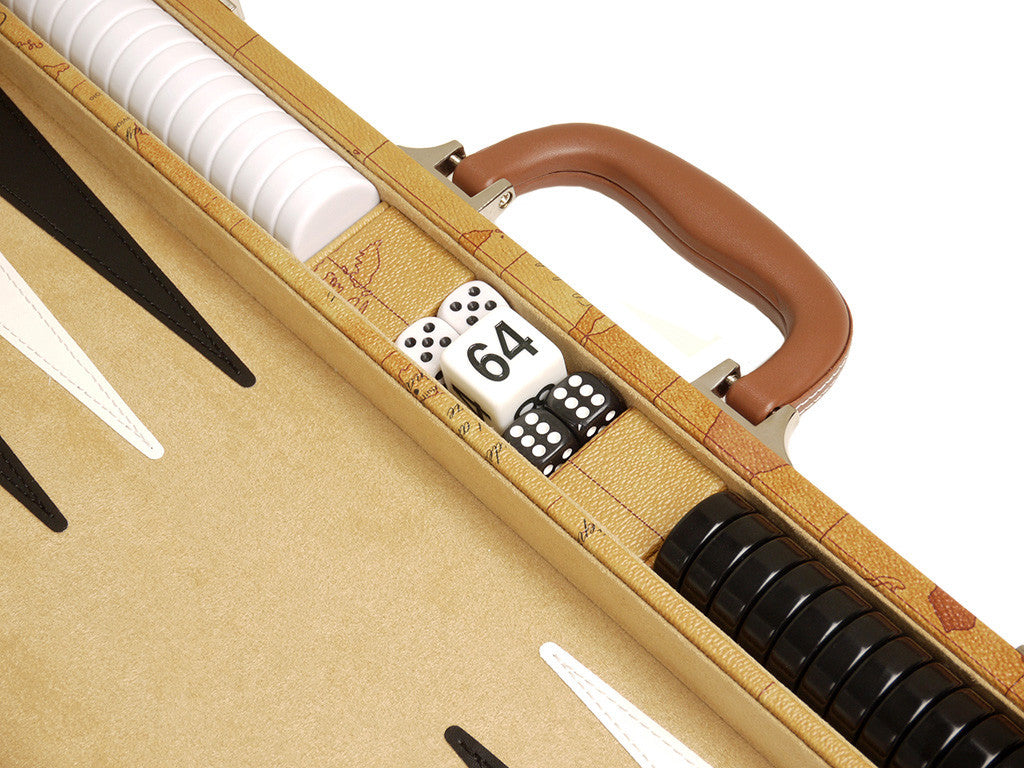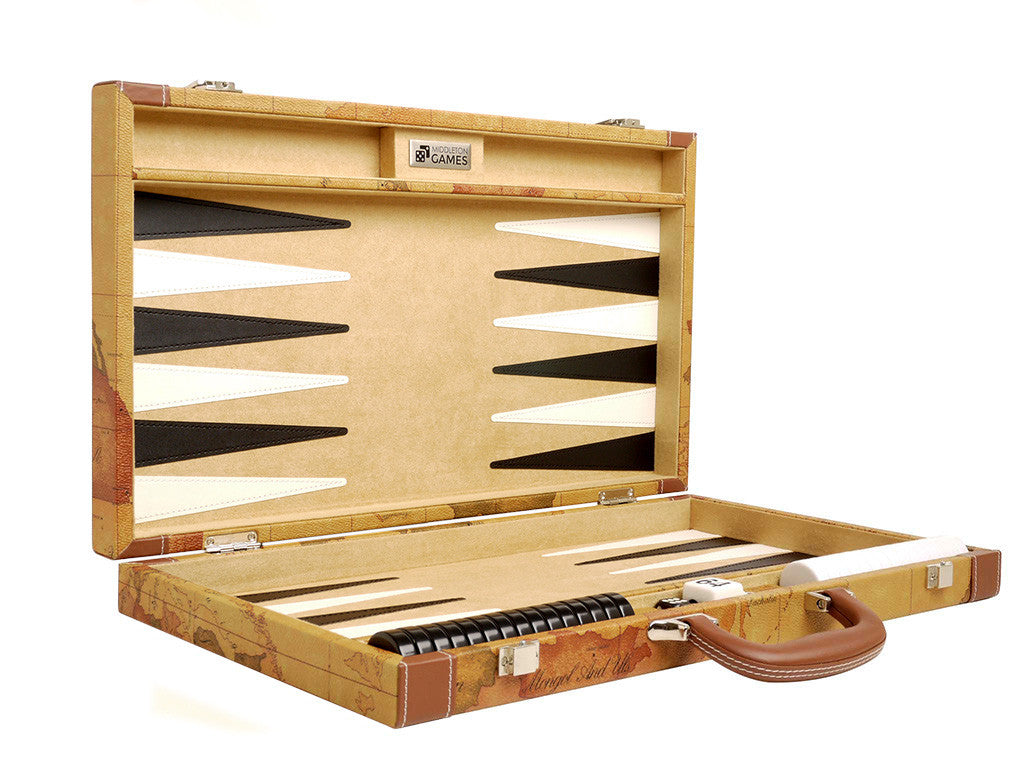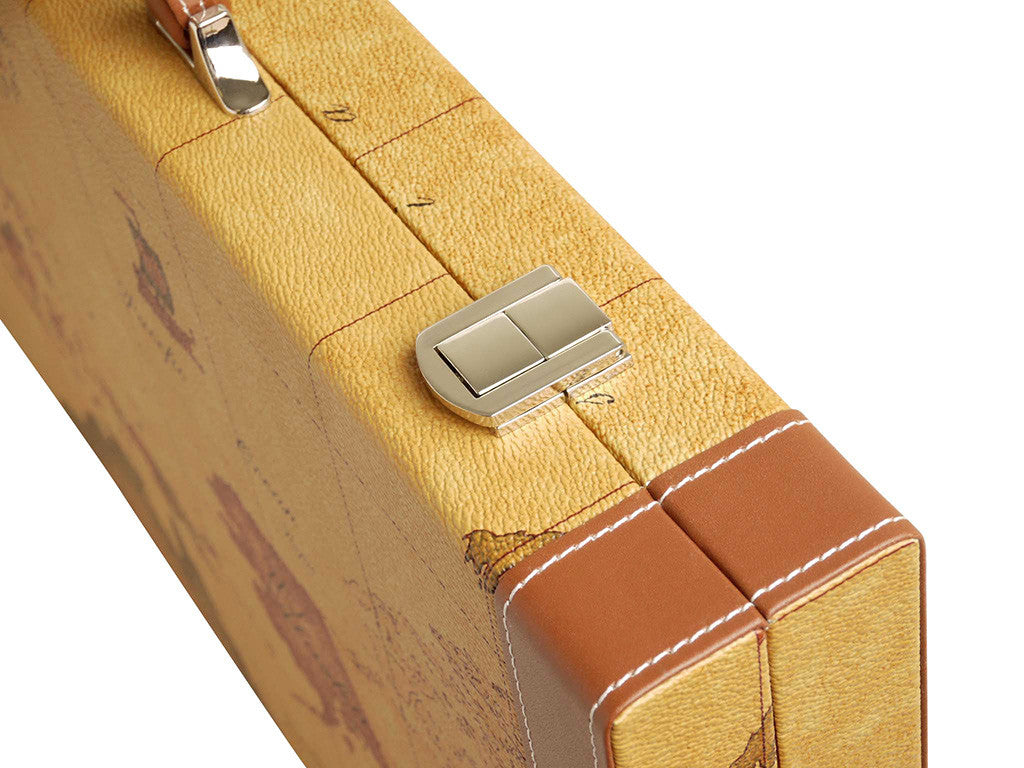 En solde
Backgammon de Luxe de 46 x 53 cm - Plateau Marron
Conception élégante et pleine de style, décorée d'une carte du monde. Surface de jeu ultra douce en faux daim.
Boîtier de 46 cm x 26,5 cm x 6,5 cm une fois fermé; et de 46 cm x 53 cm x 3,25 cm une fois ouvert.
Fourni avec accessoires de qualité supérieure : pions de 32 mm x 10 mm, videau de 25 mm, dés de 16 mm et gobelet assorti.
Style mallette pliable. Facile à transporter et à stocker.
Un jeu amusant. Utilisable à l'extérieur et à l'intérieur.
Vous cherchez quelque chose d'unique, qui sorte de l'ordinaire ? Prenez un moment pour explorer ce magnifique jeu de backgammon de Middleton Games.
Admirez les superbes matériaux et le savoir-faire artisanal qui caractérisent ce produit, grâce à notre longue expérience en fabrication de jeux de plateau de qualité.
La poignée robuste, au style inspiré de celui d'une mallette, atteste d'une gamme supérieure à celle d'autres plateaux de backgammon. La surface de jeu est en faux-daim luxueux (et d'une douceur exceptionnelle !) et les pions glissent en douceur d'un point à un autre.
En parlant de pions, vous allez apprécier ceux qui sont fournis avec ce plateau de backgammon, d'une taille de 32 mm sur 10 mm. En plus de leur gabarit, vous pourrez admirer à quel point ils s'adaptent à la surface du jeu lorsque 6 pions sont alignés côte à côte, sans laisser d'espace vide.
Les poches latérales permettent un rangement du jeu sans perte de place, ce qui fait de l'ouverture et de la fermeture du boîtier un véritable jeu d'enfant. Des matériaux de qualité et un savoir-faire artisanal assemblés en un plateau de backgammon très élégant.
Dimensions du jeu de backgammon
Longueur fermée: 18 1/4" ; Largeur: 10 1/2" ; La taille: 2 1/2"
Longueur ouverte: 18 1/4" ; Largeur: 21" ; La taille: 1 1/4"
Matériel de jeu de backgammon:
Boîtier: En skaï
Couleur de cas: Design de la carte - Marron
Matériel de terrain: Haute suède faux
Couleur du champ: Ocre
Points 1 Couleur: Blanc
Points 2 Couleur: Noir
Style de fermoir: Loquet plaqué nickel
Dimensions de la pierre de backgammon:
Diamètre: 1 1/4" (32 mm)
Épais: 3/8" (10 mm)
Matériel: Pierre Uria
Pierres 1 Couleur: Noir
Pierres 2 Couleurr: Blanc
Dimensions du cube / cube de backgammon:
Taille des données: 5/8"
Cube: 1"
Dice Set 1 Couleur: Noir
Dice Set 2 Couleur: Blanc
Couleur cubique: Blanc
Dimensions de la tasse de backgammon:
Hauteur de la tasse: 3" Largeur: 1 1/2" La Longueur: 2 3/4"
Extérieur de la coupe: En skaï
Tasse d'intérieur: Haute suède faux
Coupe 1 Extérieur: Design de la carte - Marron
Coupe 1 Interne: Haute suède faux
Coupe 2 Extérieur: Design de la carte - Marron
Coupe 2 Interne: Haute suède faux
About Middleton Games
Middleton Games' Backgammon Sets Featuring Map Designs
Explore Middleton Games' exclusive collection of Map Backgammon Sets, available at American-Wholesaler. Renowned for their budget-friendly yet stylish and high-quality gaming sets, Middleton Games offers a captivating selection that blends quality with affordability. Whether you're a novice or seeking a memorable gift, these Map Backgammon Sets are designed to charm and captivate.
The antique map design on these sets transports you to an old-world era, adding an extra layer of intrigue to your gaming experience. The classic brown and white colors enhance the vintage aesthetic, evoking timeless sophistication.
Available in 15-inch and 18-inch sizes, catering to various preferences, these fully equipped sets ensure immersive gaming. The folding attaché style ensures easy carrying and storage, allowing you to indulge in backgammon wherever you wish.
These sets are meticulously crafted using premium leatherette material, providing a truly luxurious texture. The addition of nickel-plated latches adds a layer of durability and security during transport. Notably, the rugged luggage-style handle stands out as a feature that enhances both aesthetics and durability, ensuring convenient transportation. Furthermore, the plush faux-suede playing surface guarantees a seamless experience, allowing checkers to effortlessly glide with each move.
Crafted from Uria Stone material, the checkers boast exceptional durability, ensuring they remain free from breaks, scratches, or cracks. Checker size corresponds to the dimensions of the board: larger boards feature larger checkers. The 15-inch board includes 1" (27 mm) checkers, while the 18-inch board comes with 1 1/4" (32 mm) checkers.
Testimonials from customers, including the positive review by Hilde Muller, serve as evidence of their contentment with the product. Hilde Muller's review states, "Our entire family has taken pleasure in this exquisitely crafted board. Its durability and ideal size are impressive, and the map design on the case adds to its charm."
Available exclusively at American-Wholesaler, Middleton Games' Map Backgammon Sets embody historical elegance and expert craftsmanship. The blend of durability, size, and captivating design makes these sets valuable additions to any entertainment collection. Immerse yourself in enhanced gameplay with the old-world map design. Plus, enjoy the convenience of FREE shipping in Europe for these remarkable sets.