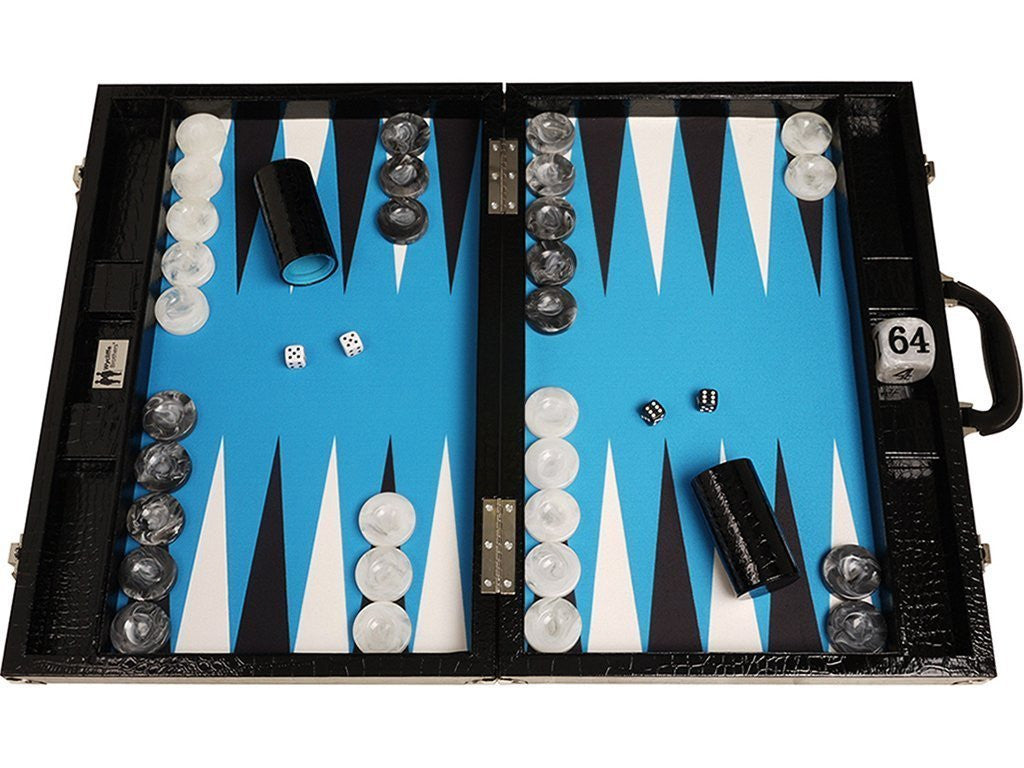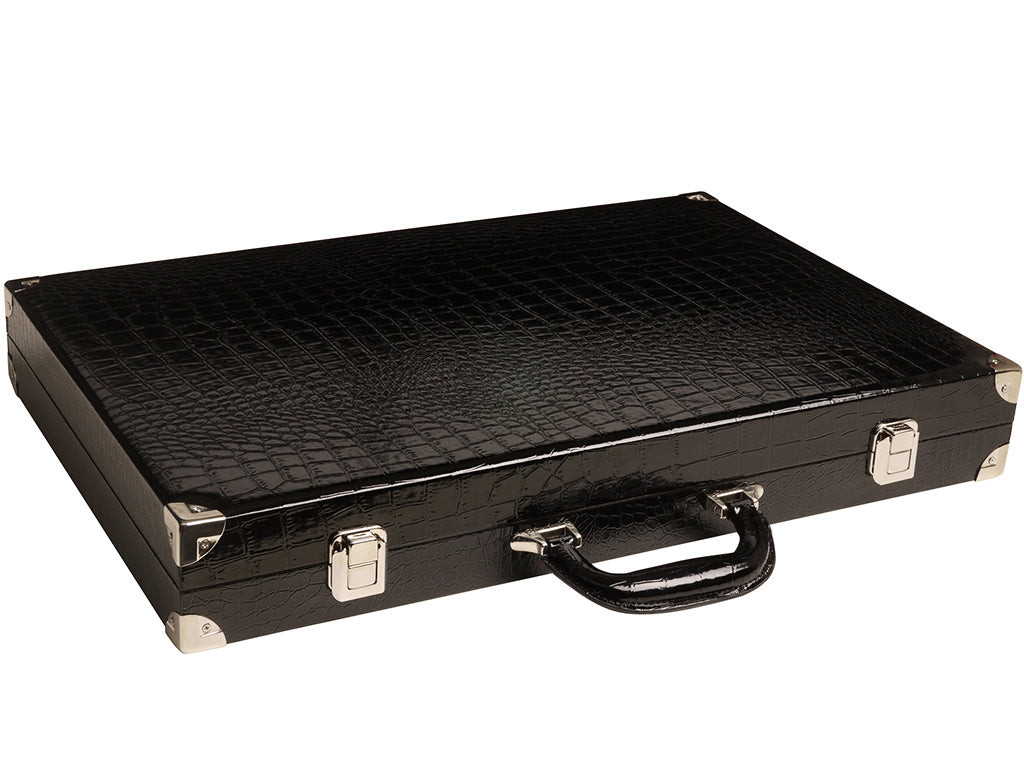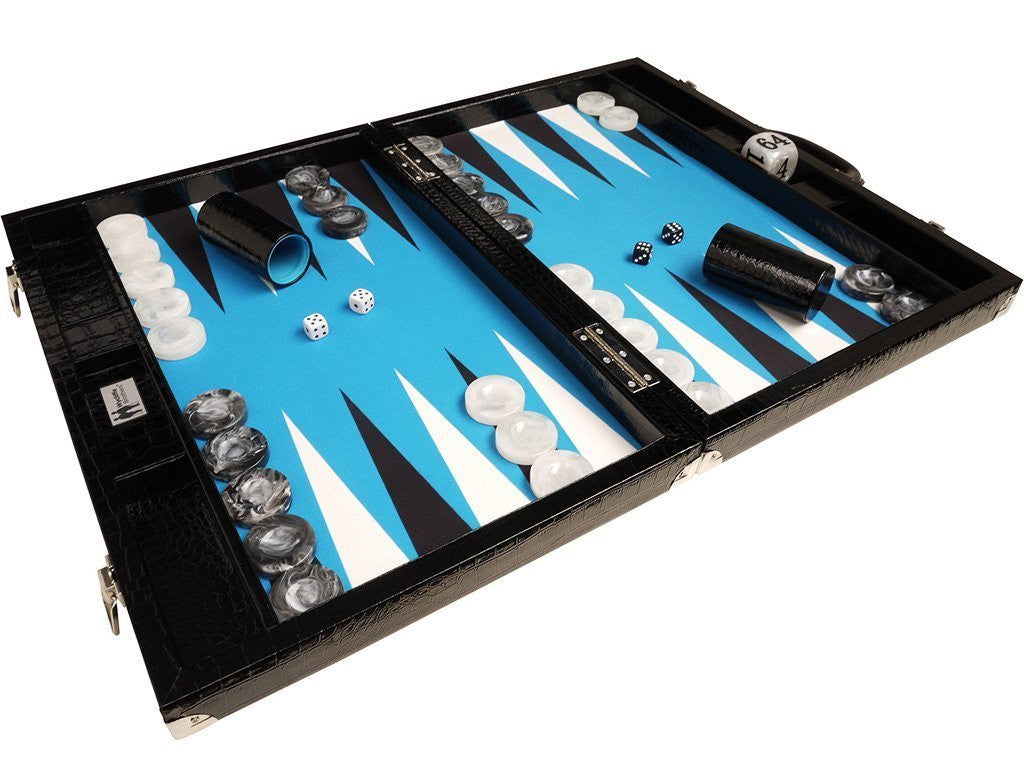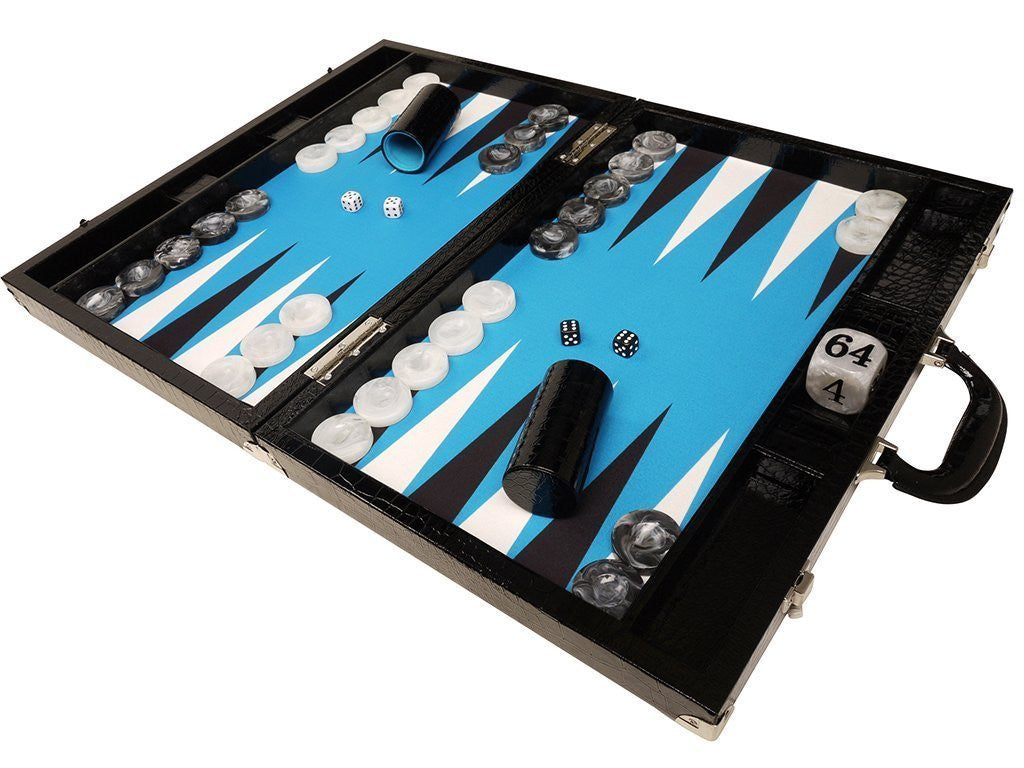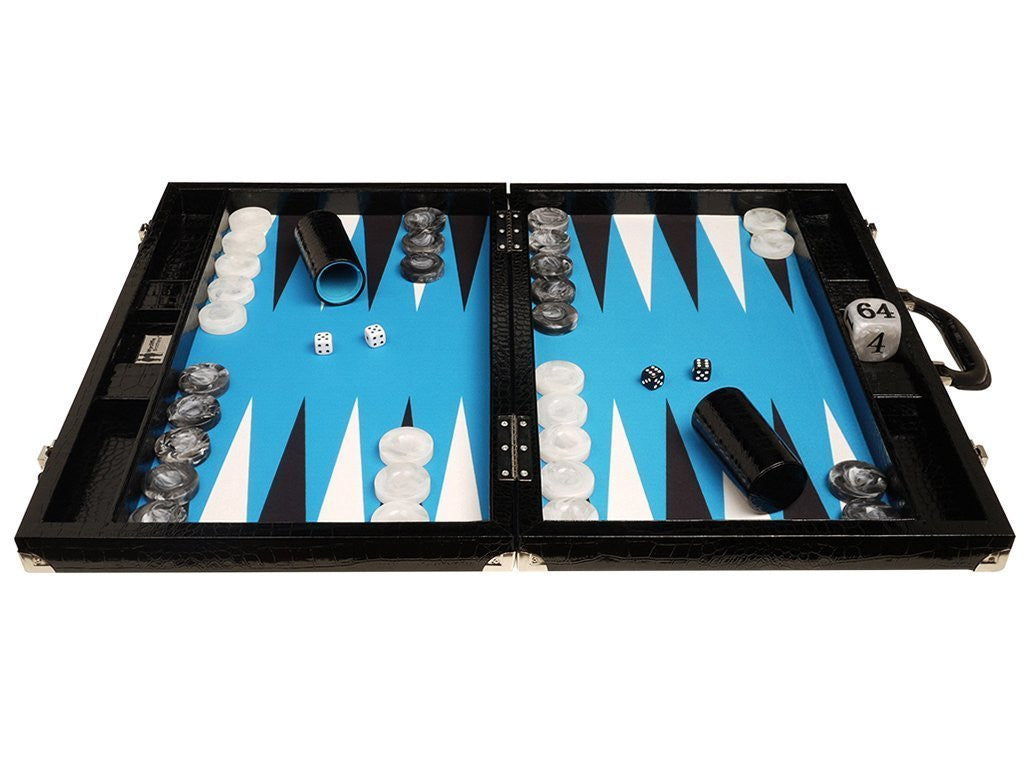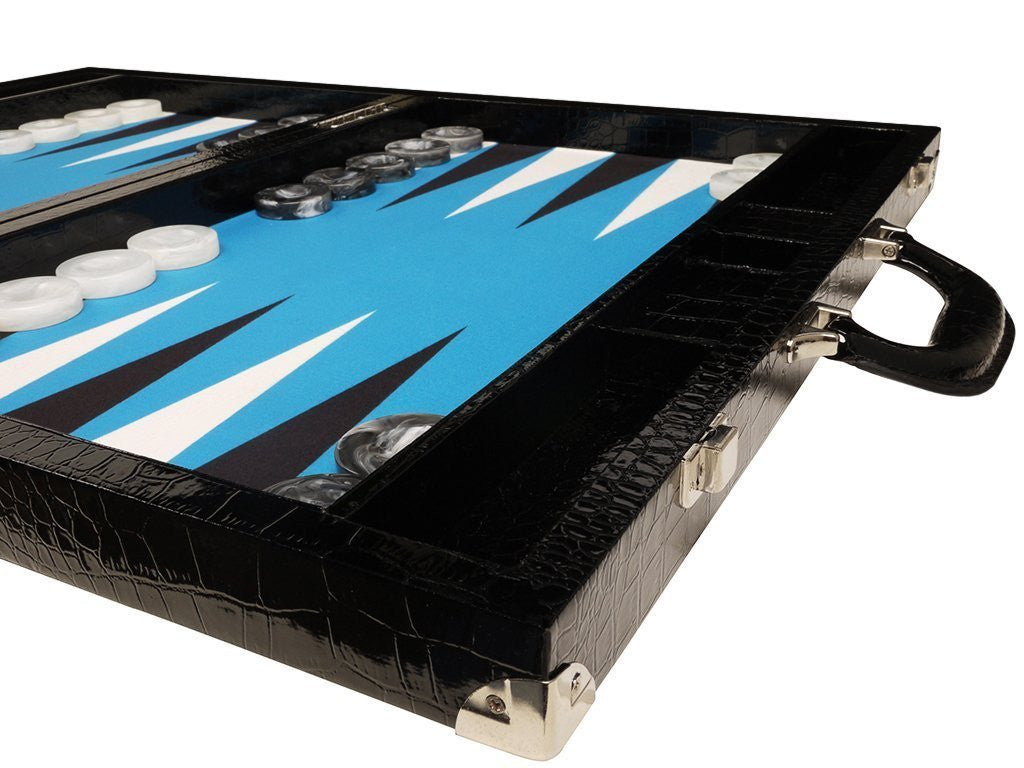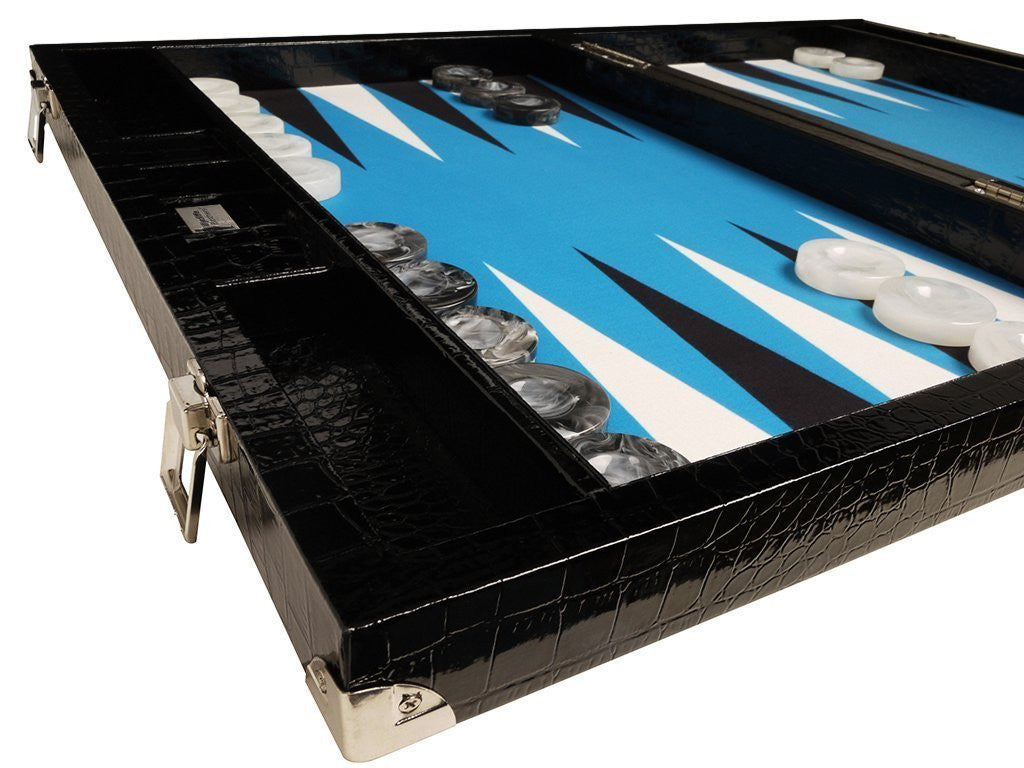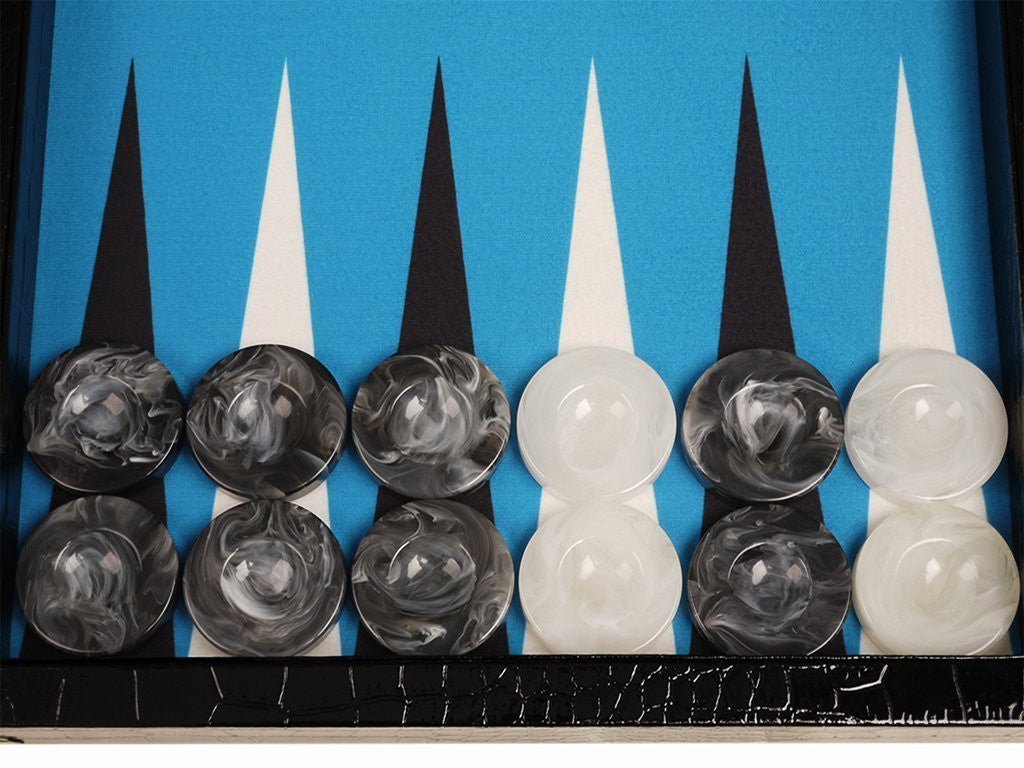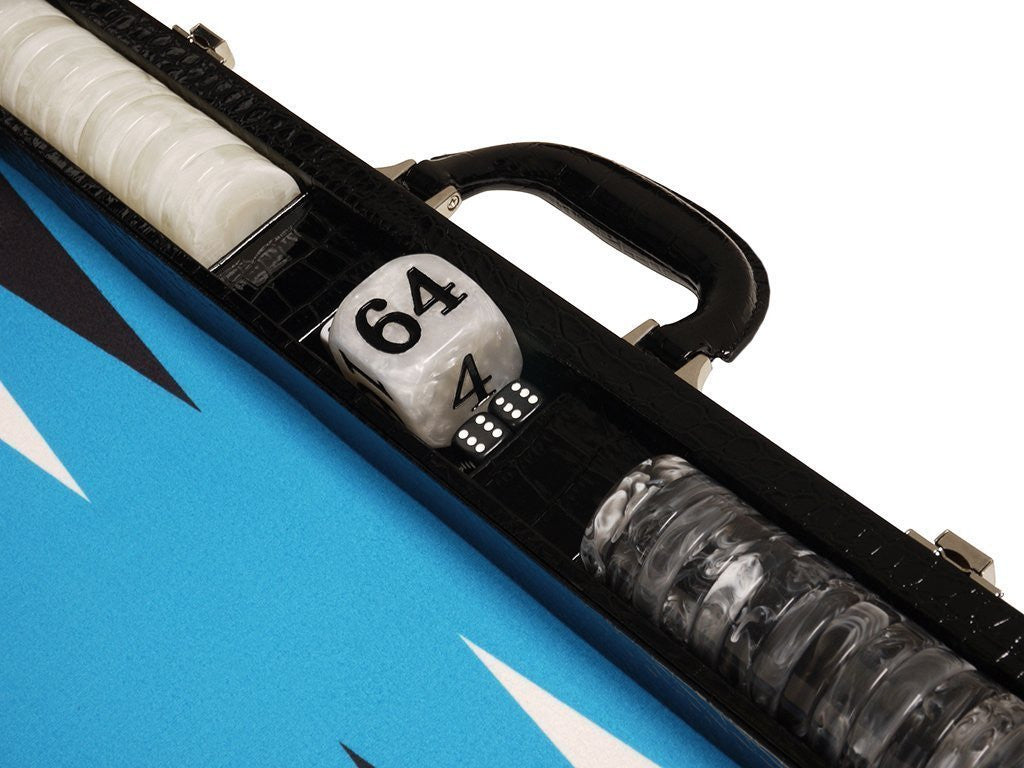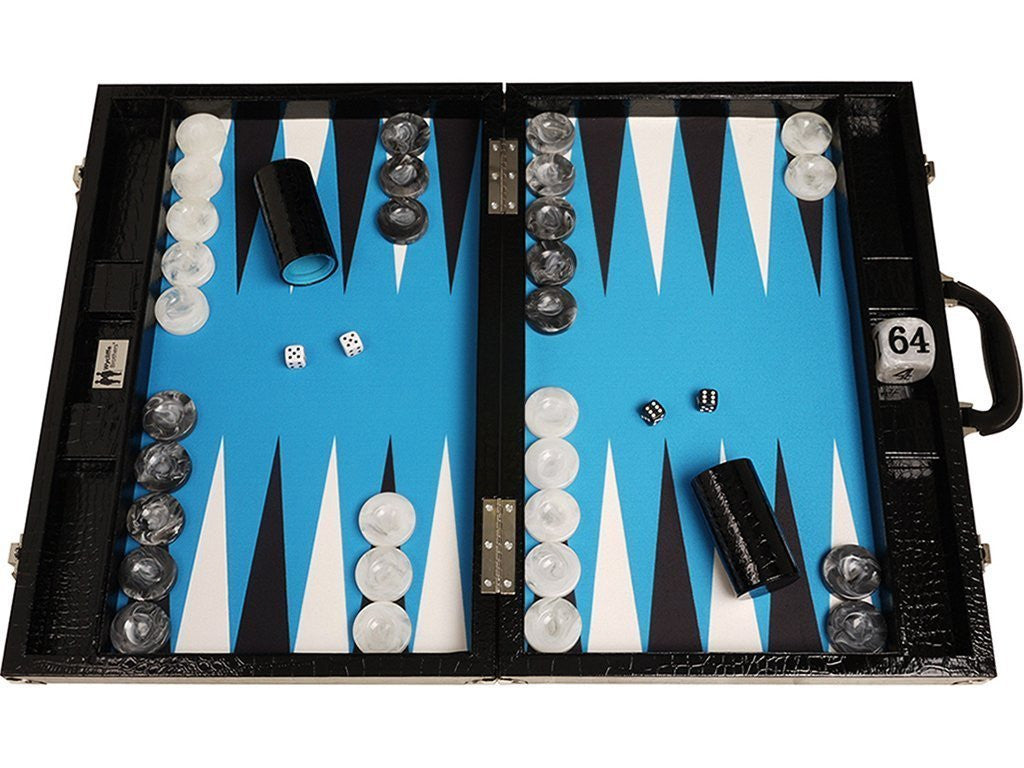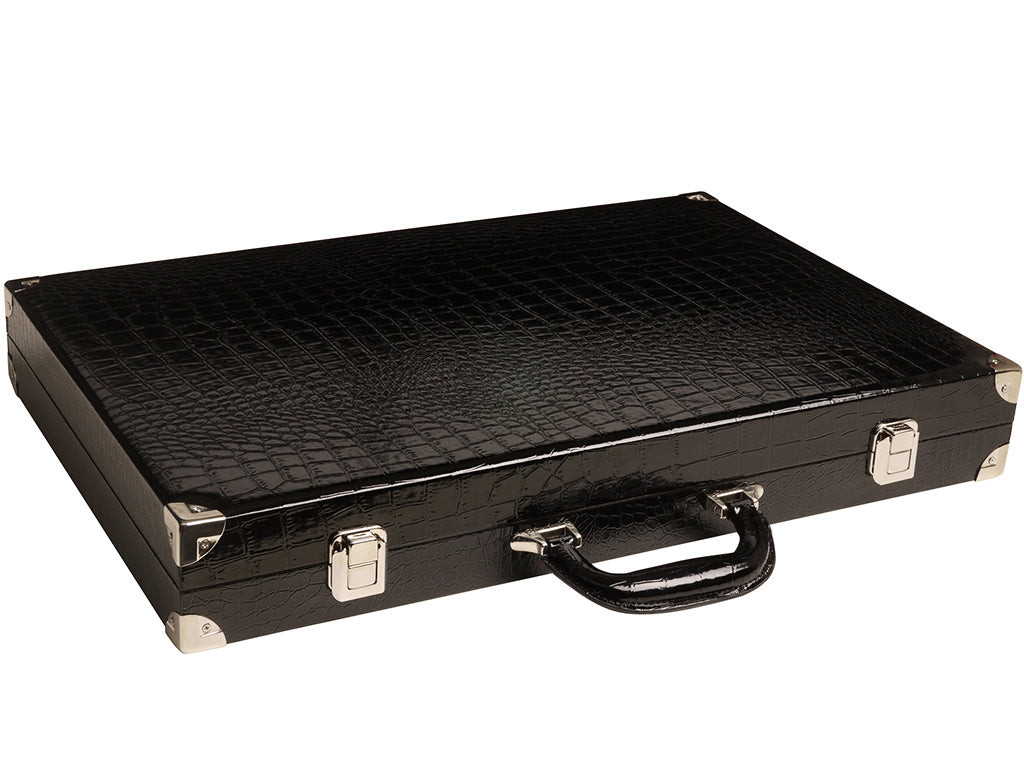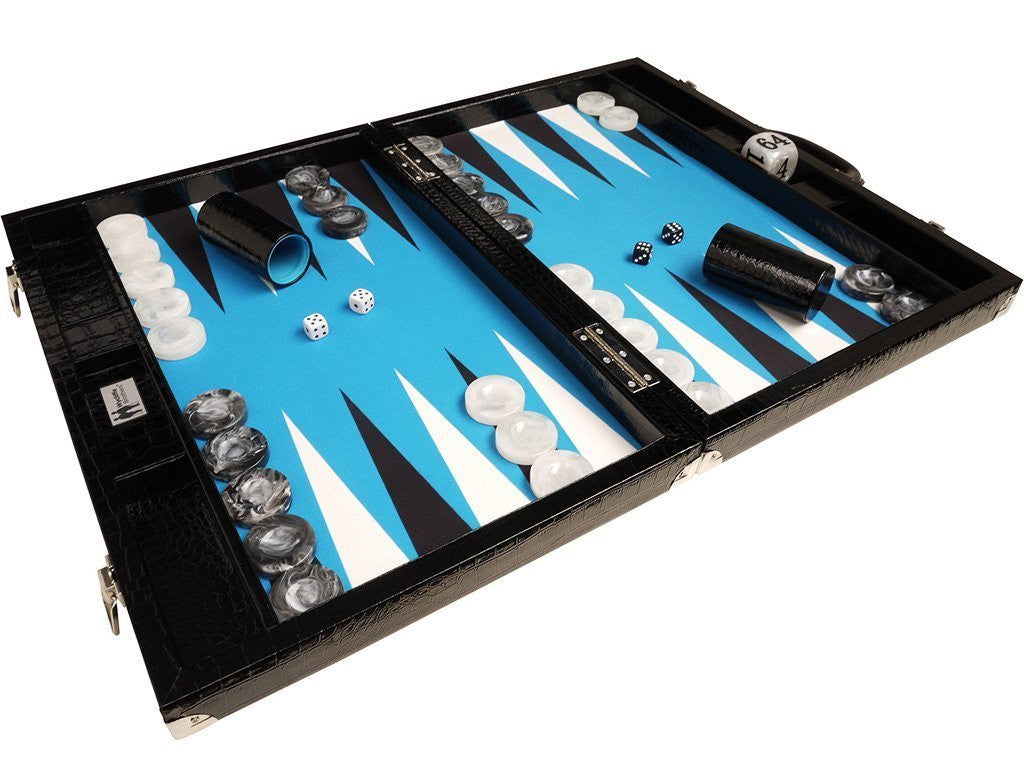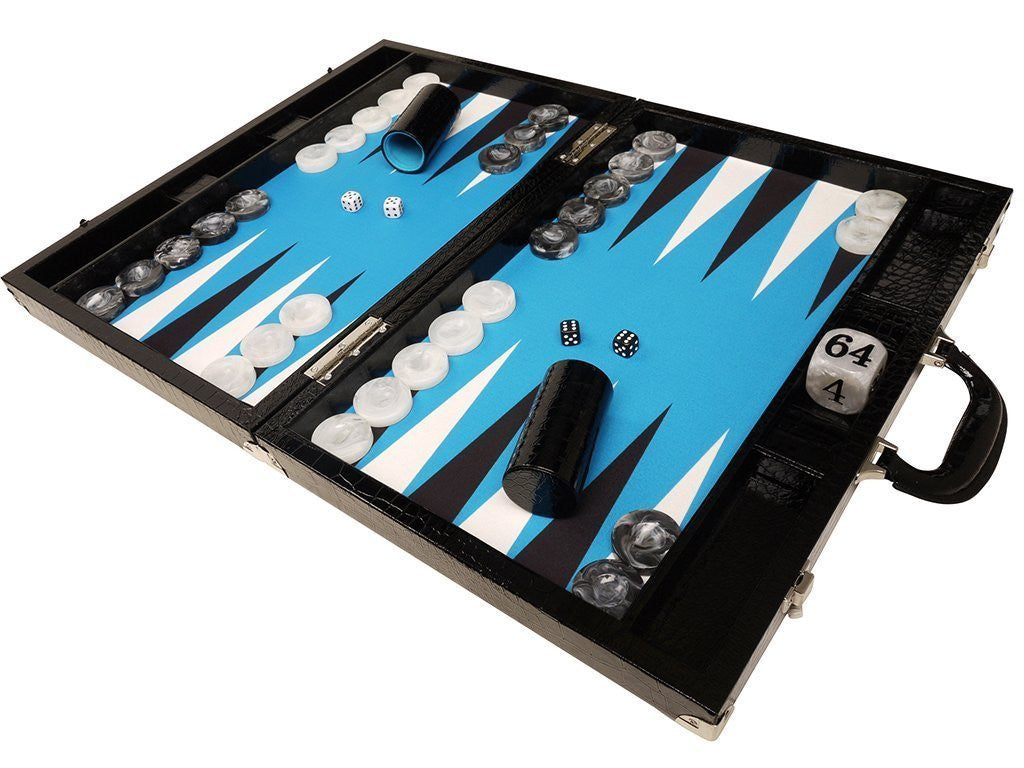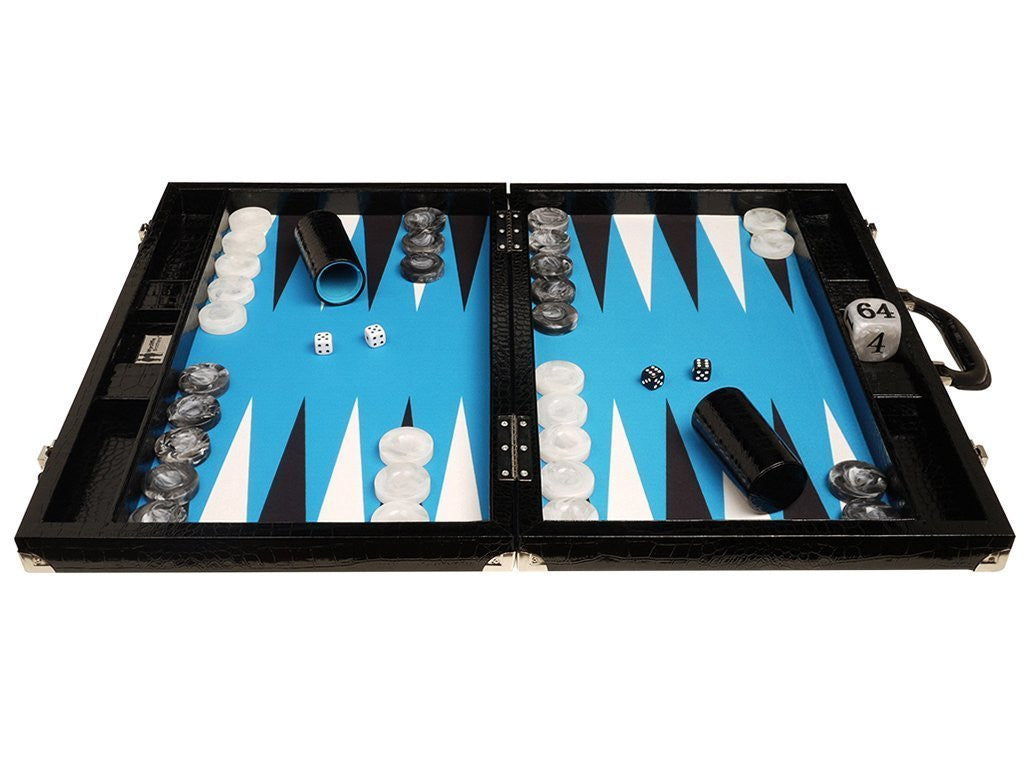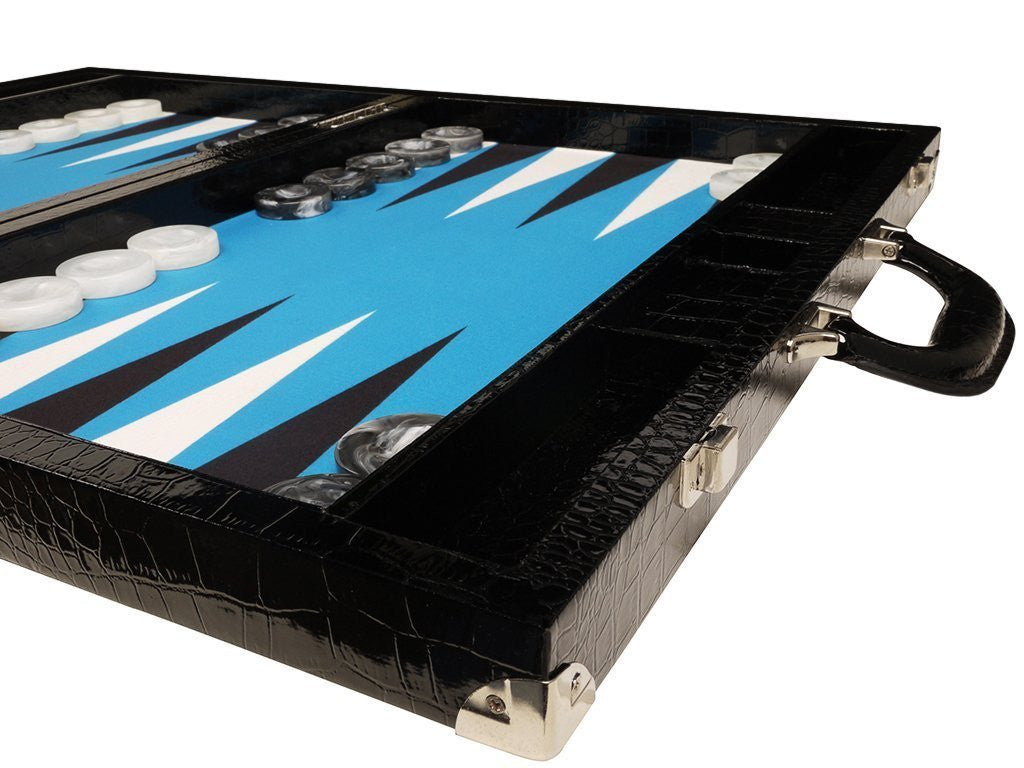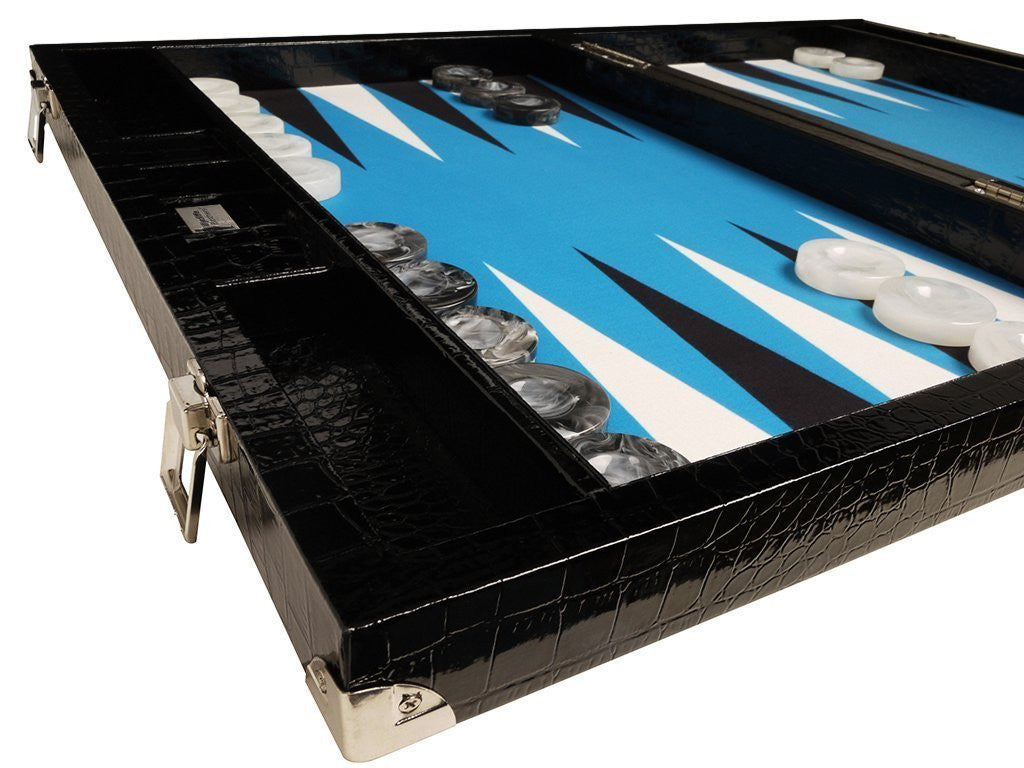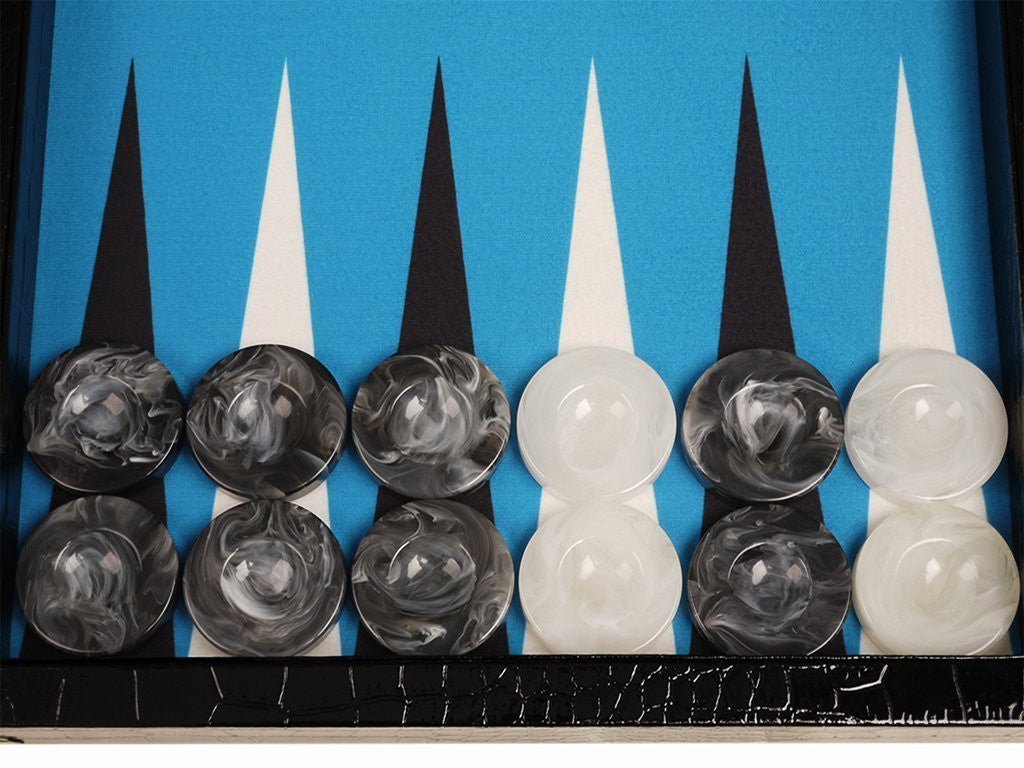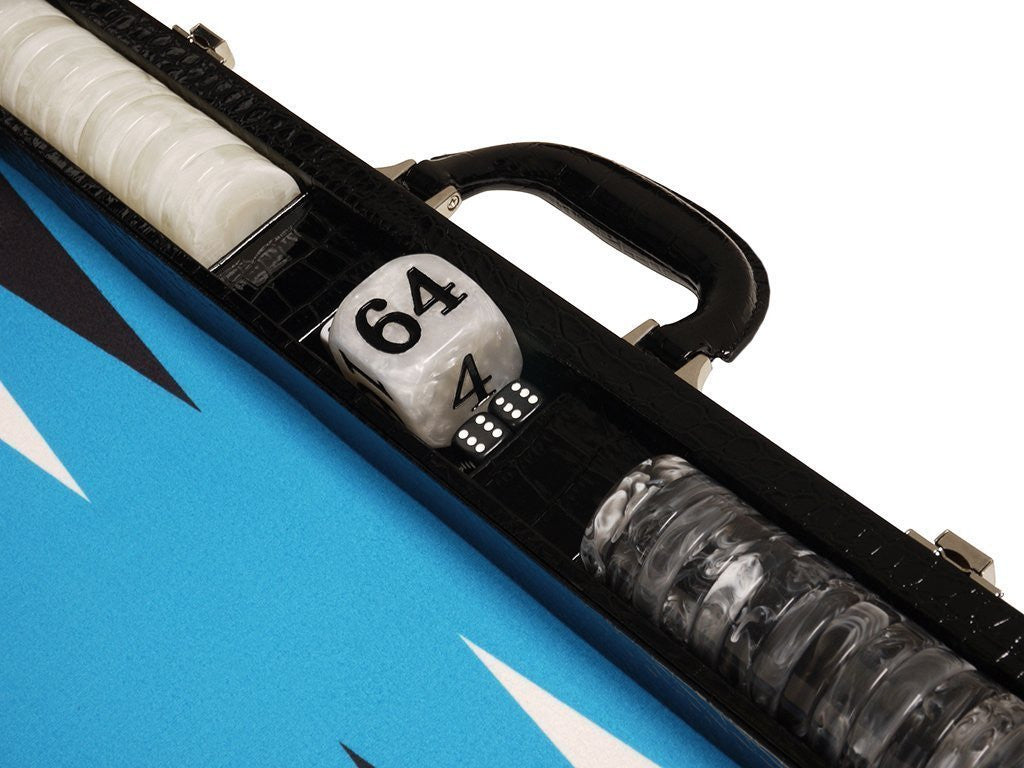 En solde
Plateau de Backgammon 53,5 x 37 cm Wycliffe Brothers, Croco Noir, Fond Bleu
Très attendus, les plateaux de backgammon Wycliffe Brothers de troisième génération sont enfin disponibles en Europe ! À l'instar de leurs prédécesseurs, ils offrent tous les avantages des modèles professionnels haut de gamme à un prix abordable.
La mallette large abrite un tablier ultra-lisse en V-Fiber™. La texture de cette matière exclusive rappelle le feutre ou la microfibre. Élaborée par Wycliffe Brothers, elle remplit les deux critères essentiels à un plateau de jeu : 1) les pions glissent sans à-coup sur la surface luxueuse et parfaitement régulière mais 2) la friction leur permet de rester immobiles si le tablier est déplacé ou en cas de choc.
La troisième génération introduit des pions inédits à effet marbre. Hautement polis, ils sont d'une beauté captivante. Grâce à leur épaisseur de 11 mm, ces gros pions réduisent la fréquence des dés « cassés ». Plutôt que de passer votre temps à relancer les dés, vous pouvez donc vous concentrer sur le jeu. Vous rêviez de pions lourds ? Ne cherchez pas plus loin. Pesant chacun 20 grammes, ils sont sans conteste la nouvelle référence en la matière.
Les gobelets professionnels ergonomiques fournis sont conçus pour tenir parfaitement dans la main. Le revêtement intérieur en V-Fiber™ rend le lancer de dés moins bruyant. Le rebord « anti-triche » de compétition ne permet pas de manipuler le jet de dés, ce qui garantit des résultats aléatoires.
Autre nouveauté de la 3e génération, le majestueux videau de 42 mm. Vous pourrez ainsi doubler avec prestance. La mallette est dotée de fermoirs en métal nickelé et d'une poignée renforcée.
Édition limitée. Profitez-en !
Dimensions du jeu de backgammon
Longueur fermée: 21" ; Largeur: 14 1/2" ; La taille: 3"
Longueur ouverte: 21" ; Largeur: 28 3/4" ; La taille: 1 1/2"
Matériel de jeu de backgammon:
Boîtier: Cuir en croco
Couleur de cas: Noir
Matériel de terrain: V-Fiber™
Couleur du champ: Poudre bleue
Points 1 Couleur: Blanc
Points 2 Couleur: Noir
Style de fermoir: Loquet plaqué nickel
Dimensions de la pierre de backgammon:
Diamètre: 1 3/4" (44.5 mm)
Épais: 7/16" (11 mm)
Poids: 20 grammes
Matériel: Marbré à haute brillance - Plat à doigts
Pierres 1 Couleur: Noir
Pierres 2 Couleurr: Blanc
Dimensions du cube / cube de backgammon:
Taille des données: 9/16"
Cube: 1 3/4"
Dice Set 1 Couleur: Noir
Dice Set 2 Couleur: Blanc
Couleur cubique: Blanc Pearlisé
Dimensions de la tasse de backgammon:
Hauteur de la tasse: 4" Largeur: 2"
Extérieur de la coupe: Cuir en croco
Tasse d'intérieur: V-Fiber™ avec la lèvre de voyage
Coupe 1 Extérieur: Noir
Coupe 1 Interne: Poudre bleue
Coupe 2 Extérieur: Noir
Coupe 2 Interne: Poudre bleue
About Wycliffe Brothers

Professional Backgammon Sets at American-Wholesaler
Explore the top level of professional backgammon with the Wycliffe Brothers collection at American-Wholesaler. As a brand that specializes in crafting exquisite backgammon sets designed for tournament and professional play, The Wycliffe Brothers offer a collection that redefines the boundaries of elegance and functionality.
In this collection, discover a variety of large 21-inch backgammon sets designed for dedicated players. These sets are carefully made from faux-leather or leatherette, blending luxury and durability. The standout feature is the unique V-Fiber playing surface, an extraordinary innovation by The Wycliffe Brothers, offering a remarkably smooth texture similar to felt. This innovation sets these sets apart, creating a distinctive gaming experience where checkers glide smoothly and dice rolls provide a satisfying cushioned feel.
The collection offers two exceptional series: the Croco and Masters Edition. The Croco series stands as a testament to refined design and sophisticated gaming. The faux-leather exterior boasts a tasteful crocodile pattern, elevating the aesthetic of the set to new heights. Its meticulous craftsmanship extends to the V-Fiber playing surface, ensuring every match is a symphony of smooth moves and precise rolls. The larger 1-3/4" (42mm) doubling cube in this series adds strategic depth, enhancing the gameplay experience.
In the Croco series, the checkers themselves are marvels of design, measuring 1 3/4" (44.5mm) in diameter and 7/16" (11 mm) in thickness. Their marbleized appearance lends an air of elegance, while the finger dishes make handling them a breeze. The professional dice cups, featuring trip lips and V-Fiber lining, minimize dice noise, immersing you fully in the game. The Croco series is more than just a backgammon set; it's a statement of sophistication and precision.
Introducing the Masters Edition series, a fresh peak in backgammon design innovation. Building on the legacy of the Croco series, the Masters Edition is a tribute to excellence accessible to all. Encased in black leatherette cases, these sets feature vibrant V-Fiber playing surfaces in an array of colors, from regal purple to striking red, blue, and yellow. The marbleized checkers in this series are masterpieces themselves, boasting an oversized 1 3/4" (45 mm) diameter and a thickness of 7/16" (10 mm). Their substantial weight of 20 grams each enhances gameplay stability, while the finger dishes imbue them with practical elegance.
The endorsement of Chiva Tafazzoli, President of the World Backgammon Association, resounds throughout the backgammon community: "I highly recommend the Wycliffe Brothers® Tournament backgammon sets. There are so many things to love about these boards: incredibly smooth playing surface, enormous checkers, professional-grade cups, cube, and dice...not to mention the unbelievable price! Dollar for dollar, these are the best backgammon sets in the world."
Incorporating quality, innovation, and affordability, the Wycliffe Brothers category at American-Wholesaler stands as the definitive choice for professional backgammon enthusiasts worldwide. Experience the essence of tournament play and elevate your gaming with these exceptional sets from a brand that truly understands the art of the game.